Welcome to the color trends for 2021. These 8 paint companies have chosen their colors for 2021. In this post we're exploring the color trends that we'll be watching this year.
What do these colors tell us about the state of the world?
When the design team here at Cider House took a look at the announced colors of the year and color trends for 2021 from the major paint companies, we drew a few conclusions about what colors might look like for design in general and web design specifically. But before we take a look at the specific colors and what each organization was thinking, let's dive in and talk a little about these colors in the context of 2020.
What we see is a trend in colors that leans very much toward familiar, earthy, calm and comforting colors. In these earth tones we're seeing blues and greens, browns and beiges, along with rust, brick and mustard; muted versions of very familiar colors. So why this trend? Let's face it. For most of us, 2020 was very challenging. It was the year of the pandemic; the year we stayed home. These colors reflect a desire for normalcy, comfort and calm. These are the colors that we want to wrap ourselves in when we are stressed or worried. They feel like home. They feel solid and nurturing.
Our design team feels that the trend over the coming year when we're talking about color will be neutrals and familiars. By neutral we feel more subtle shades of familiar colors like blues, greens, red, yellows. After a year like 2020, we think people will respond very well to colors that feel comforting and not too loud. We've had plenty of loud. These warm and serene colors will create a nice space for our designs over the coming year. And, of course, we can absolutely complement these more subtle colors with some brighter and more vibrant tones. We could all use a little cheering up to go with our comfort.
So let's dig into what the color trends and predictions were from all of the color organizations. Read on for more info and hopefully some inspiration for your color choices for the coming year.
1. Pantone colors of the year: Ultimate Gray and Illuminating
Pantone is a bit of an outlier this year. In 2020, Pantone didn't choose just one color of the year. They chose two colors. They chose a neutral Ultimate Gray with a lively, sunshine reminiscent yellow called Illuminating. The gray provides a rock solid foundation and the yellow brings in some much needed and wanted warmth and brightness. Together, these two colors bring feeling of strength and warmth.

2. Delux Color of the Year: Brave Ground
Brave Ground hits all the notes of a warm, natural neutral color. That familiar, grounding-type of color that makes us feel like we are standing on solid ground. What's nice about this neutral is it plays well with a full range of other colors on the spectrum from cooler blues and greens, to warmer, muted hues of reds, pinks and yellows.
Brave Ground Color Scheme 1
Brave Ground Color Scheme 2
Brave Ground Color Scheme 3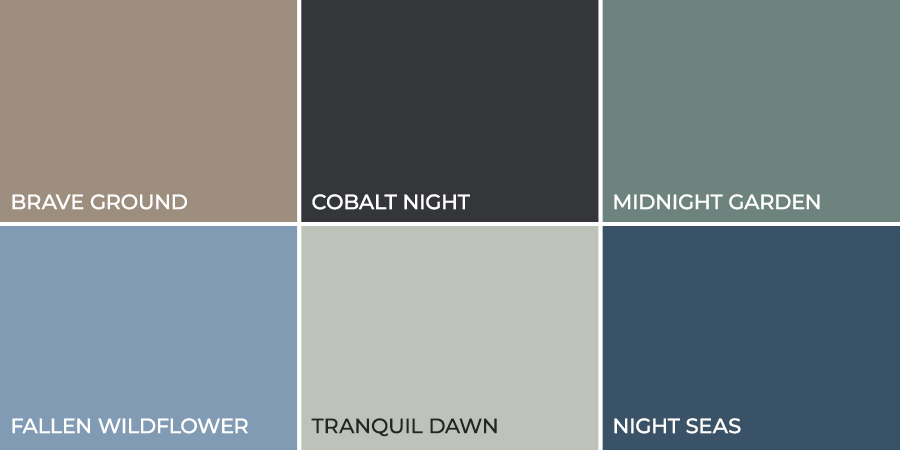 3. Benjamin Moore's color of the year: Aegean Teal
When the folks at Benjamin Moore describe their color of the year, they use words like intriguing, balanced and soothing. This blue and green color with a hint of gray creates not only a sense of elegance but is also very inviting. This blue feels like water and evokes the sound of the ocean or the running of a stream. It feels like home. It's familiar. It also anchors a very warm and earthy palette from Benjamin Moore. Sure these colors can work inside your house, but they can also work very nicely on your website, brochures and other designs.
Aegean Teal Color Scheme 1
Aegean Teal Color Scheme 2
Aegean Teal Color Scheme 3
4. Jotun Lady
Norwegian paint company Jotun Lady has not given us one color, but rather a collection for 2021 called "Rediscover." This collection of four separate color palettes of warm, earthy feeling neutral hues.
Warm and Rustic
This set of colors feels like it has gathered rocks and sand from some of the most beautiful deserts in the world, from Morocco to the American Southwest. While it's reminiscent of the landscapes, it also reminds us of the clay, rock, sand, and other materials that are the building blocks of the older and more rustic parts of these landscapes.
Soft Neutral Colors
These colors are calming, familiar and create a perfect base for brighter splashes of color.
Dreamy Pastel Hues
Finally, this Norwegian company brings us a little feeling of the colors of Scandinavia. They feel both new and classic/vintage.
Airy Blue Tones
This set of colors still evokes the feeling of earth and that calming and welcoming sensation, but we feel it relies heavily on a set of bluer tones to anchor.
5. Sherwin-Williams color of the year: Urbane Bronze
Sue Warren, the director of color marketing at Sherman Williams says "the home is now the ultimate retreat from the world, and color is an easy and effective way to create a personal haven." That's why this can be a very good color to anchor any designs from graphics to your website. This bronze color is a little richer and deeper than many of the other earthy tones introduced by the other paint companies.
6. Behr Color Trends
Also sticking with a pallet of earth-inspired tones, Behr does bring a little more vibrancy to the color palette. They may be a bit more vibrant, but these colors are still soothing and familiar. The richer oranges and blues are a nice counter to the softer earth and muted colors of this palette.
7. PPG Colors of the Year: Transcend, Big Cypress and Misty Aqua
The Pittsburgh Paint Company has chosen a palette of three colors as their go-to set of colors for 2021:
1. Transcend, an oatmeal-colored hue that brings an earthy nostalgia.
2. Big Cypress, which is a little warmer, orange leaning earth tone and
3. Misty Aqua, a light watercolor blue that complements these two warm tones nicely.
In the words of D Schlotter, PPG senior color marketing manager, "With the world sheltering in place for the better half of the year (2020), we have begun to crave human connection and embrace simple activities, including walking, hiking, baking and gardening. This organic and hopeful palette represents what we have been longing for after decades of overstimulation and overconsumption – simplicity and restfulness."
8. Graham and Brown Color of the Year: Epoch
Epoch is a very rich, luxurious, and deep amethyst color. While it can be quite dramatic, it isn't bright and loud. A color like this will pair nicely with the neutral earth and tones we've been seeing as trends with the other paint companies.
Final thoughts
In 2020, the global pandemic and resulting lockdowns have filled our everyday lives with uncertainty and anxiety. This is true here in the U.S. and across the world. It has been a year that will probably define a generation. It's probably the most impactful thing to ever happen in most people's lives, and for many of us, the scariest. These calming, comforting and familiar color palettes are just what the doctor ordered after a year like 2020.
What about other colors?
We don't think bright colors are going away any time soon. They have their place and you will see big bold colors being used in big, bold combinations. That being said, we think that the overall trend in 2021 will be that companies choose more muted and earthy colors in their branding, design and marketing.